I do! And I love it!! ♥
So, while I was browsing through the Menswear Spring 2011, I noticed a trend of shorter then your average shorts.
For example...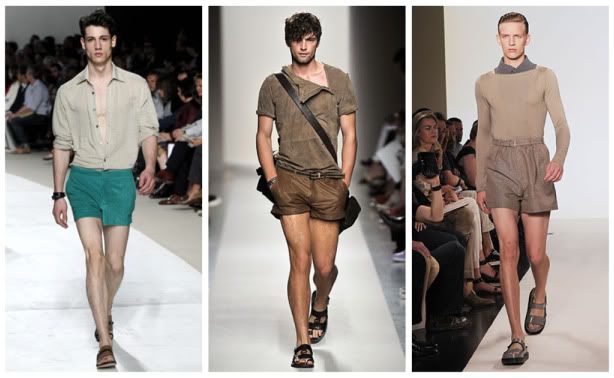 Hermes, Bottega Veneta, Yves Saint Laurent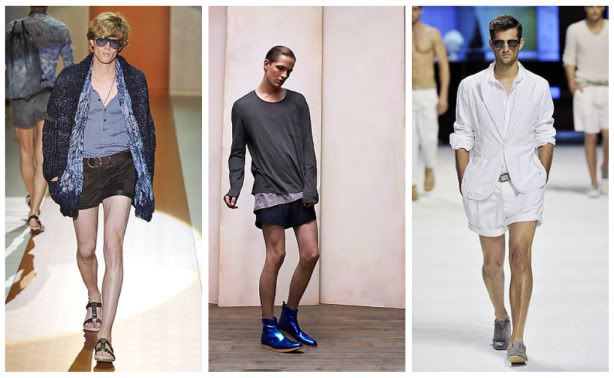 Gucci, Acne, Dolce & Gabanna
These are just a few of the many collections that possessed the leg revealing shorts!
Throughout my elementary life I always wore short shorts, I specifically remember a pair of red ones that sat on the waist and hemmed mid-thigh. Those red shorts were my favorite!
Then comes the day I was forced to wear "normal" shorts. That's right FORCED! I cried, refusing to put on those pair of shorts. Unfortunately, I failed and my parents won, I was mad at them for the rest of the week. I will never forget that day, the day I was striped away from my beloved red shorts....
Well moving on... the short shorts are back (at least on me) and I just wanted to share some ways how I wear them. You can wear it these ways as well! For Spring/Summer of course!
With scrunched socks! Typically I only wear scrunched socks if theres a lot a skin. Otherwise they can make you legs look chunky and short. It also depends on the socks thickness. They would look cute with cropped pants and a pair of wedges, don't you think?!
Cardigan - Uniqlo, T-shirt- American Apparel, Shorts - American Eagle (it was 3 years ago!!!) They're old jeans that I cut, Socks - Uniqlo (they're toe socks) Shoes - Cole Haan
Tights of course! Wearing shorts with tights make them wearable during winter, especially when worn with a pair of warm boots!
Vest - H&M, T-Shirt - Heritage, Shorts - Old cut up American Eagle jeans, Tights - Simply Vera, Rainboots - Burberry (now if only I could afford Burberry Prorsum)
On popSTYLEcle of course! same as above except worn with a cardigan from Uniqlo.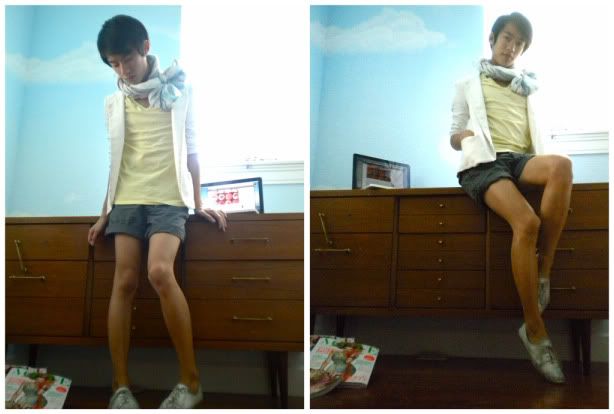 Au Naturel, you can never go wrong with your legs! Just a way to boost up the sex appeal! Just don't go to high... then that's just unclassy
Blazer - Urban Outfitters, T-Shirt - H&M, Shorts - H&M, Shoes - Purplow, Scarf - H&M
Here's a close up of my scarf, It's tied in a bow! I love bows so much, I tie everything in bows! They're super kawaii!
Socks, I wish I had knee-high socks! I'm currently on the prowl for them! Wearing socks with shorts reminds me of Japanese school girls! It's up to you and how you want to wear your socks, they could be uneven, scrunched, torn, etc. Make them suit your style and don't forget colors! Play with them and use them to your advantage! They can add so much individuality to an outfit!
Vest - Uniqlo, Layered Tanks - Uniqlo (I love Uniqolo!!) Shorts - H&M, Socks - N/A, Shoes Purplow
I just liked this picture!
These are just a few ways of how I wear my short shorts! The possibilities are endless!
So gentlemen don't be afraid to whip out your short shorts and show your sexy legs! You can do it! Be a man! =)
How do you wear your short shorts?! Feel free to share!
I hope you find new ways to spice up your outfits through this post!
runway photos are from style.com